Tensorgrip® P313 is an industrial strength pebble spray, developed for a wide variety of substrates. It delivers maximum smoothness while allowing for post-forming, and complies with California VOC regulations. Its CO-REZ technology means you have a lightweight canister that provides greater coverage.


Why Use Tensorgrip® P313?
Smooth application pebble spray
The P313 pebble spray is similar to mist sprays (creating a light and consistent droplet pattern on the surface it's sprayed upon), with the exception that the pattern is made up of larger droplets. This spray gives a smooth and consistent pattern on the surfaces you apply it to.
P313 is a super flat, low-profile spray that reduces telegraphing through substrates, and has an excellent high coverage.
OTC and California-compliant low toxicity
P313's specialty formula is designed to limit the amount of chemicals released into the air during application or use, allowing for reduced air pollution, less odor, and a safer work environment.
P313 is compliant with California regulations (SCAQMD Rule 1168), as well as the Ozone Transport Commission's (OTC) VOC regulations, with no Ozone-Depleting Substances (ODS). It has a very low VOC, meeting the highest standards for toxicity.
HAPS-free for safety and compliance
P313 is also HAPS free, helping workers stay safe, reduce operating costs from excess protective equipment, and stay compliant with EPA regulations.
Maximum portability with CO-REZ Technology
Tensorgrip® P313 was developed with CO-REZ Technology, a unique formulation with a specialized resin and gas matrix. This translates to better coverage and a lighter canister to carry, in spite of its larger size. That makes P313 well-suited for portability and ease of use for field or shop applications.
Convenient, reliable application
P313 dries quickly and reaches 80% of its final strength immediately, with a long open time to allow a flexible application process. With no urea formaldehyde added, it provides a more reliable and water-resistant bond, and its high heat resistance (up to 200°F/93°C) allows it to retain its strength over time in a range of environments and usages.
Bonds with a wide range of substrates
P313 bonds a wide variety of substrates such as high-pressure laminate, wood, particle board, melamine, metals, veneers, cork, fiberglass, fabrics, foam, headliners, glass, tile and many plastics. It's recommended for thin, high-gloss substrates.
Post-formable
Lastly, P313 allows post-forming, making it usable for a wider range of curved-surface projects, whether for aesthetic reasons or to eliminate risks of dirt or water damage.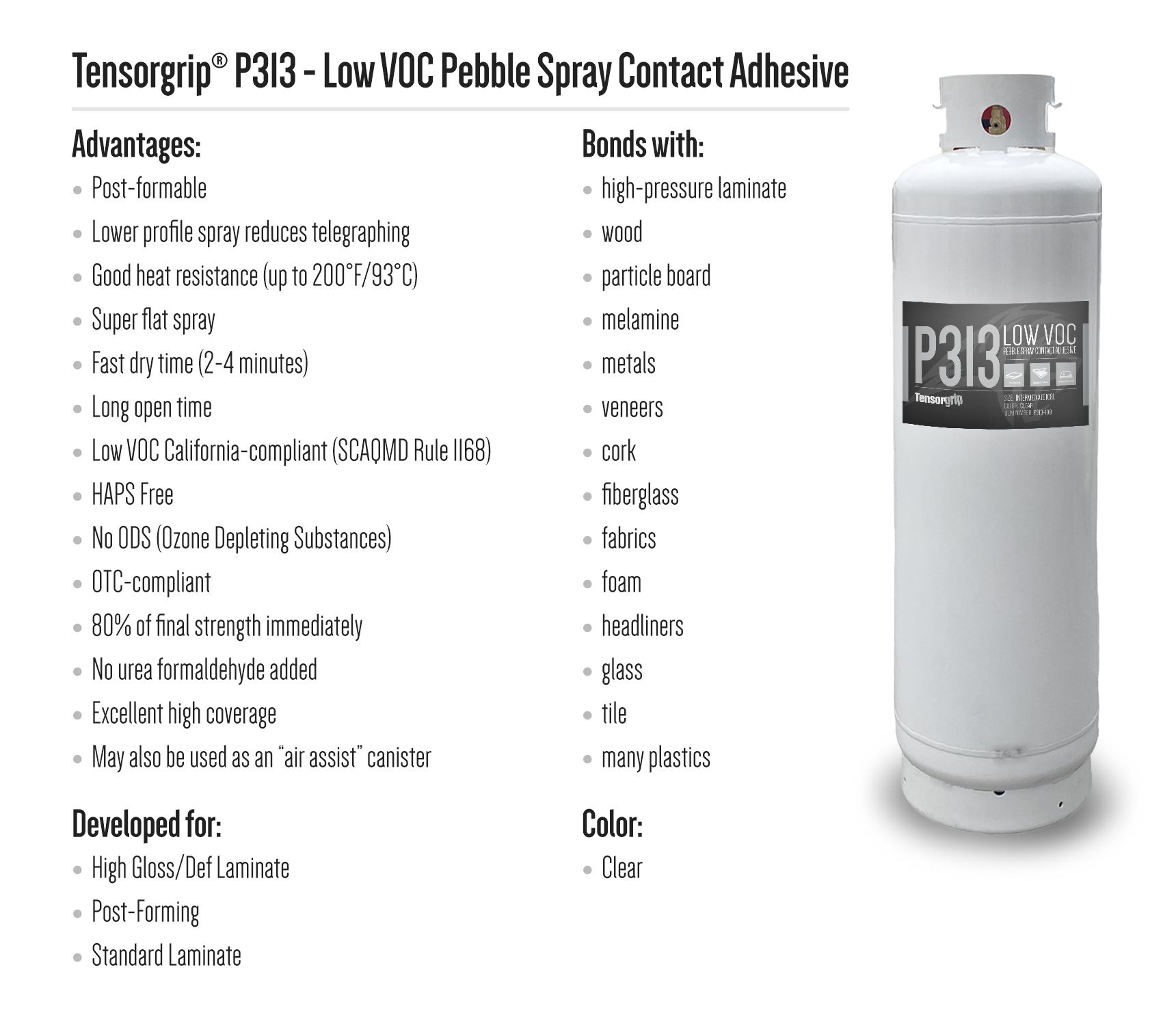 To request a sample or more information on any of our products, please contact our team!