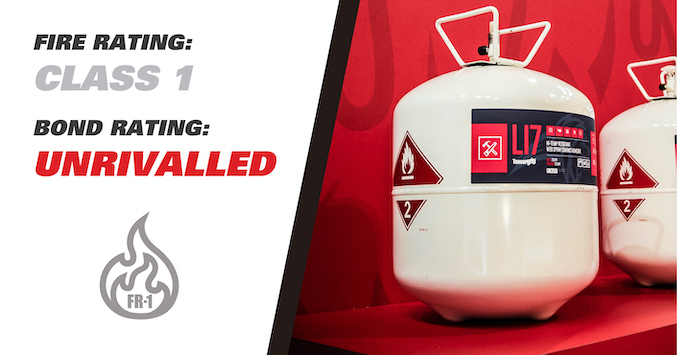 Introducing TensorGrip® L17: The hottest fire-rated adhesive on the market. A high-performance contact adhesive with a unique resin formula, this engineered system creates a super-strong, super-resilient bond line between decorative surface materials and all common wood substrates. For when the going gets hot, make TensorGrip® L17 your first choice.
Suitable for bonding HPL, GRP, and aluminium to a wide variety of substrates including MDF, chipboard, plywood and many other timber sheet materials, TensorGrip® L17 has been designed for permanent bonding where immediate bonds and high heat resistance are a must:
Fire Rated:

When we say TensorGrip® L17 is the hottest fire-rated adhesive on the market, we mean it. We're proud to offer a solution that is Class 1 fire-rated, meaning the product comes packed with fire-retardant properties. What's more, this product offers a high-temperature resistance of up to 120C! With TensorGrip® L17, you can fit better and safer.

"WheelMark" Approved:

We're pleased to display IMO "WheelMark" Approved certification on TensorGrip® L17, meaning the adhesive can be used for bonding jobs safely in marine environments, including any ocean-going vessels.

Fast Drying:

Here at Tensor, we understand that drying time can present significant obstacles to building and joinery work. That's why we've pioneered research and development to bring our customers an adhesive that dries quickly. You can move onto the next stage of the job faster with L17's average dry time of only 1-2 minutes.

Unrivalled Power:

Tensor has built its industry-leading reputation on strength and tenacity, and super-strong adhesives like TensorGrip® L17 have helped us get there. TensorGrip® L17 has been awarded BS 6222 Bond Strength Approval, meaning you can proceed in total confidence around the security of your bond.
High grab. High-temperature resistance. High bonding power. Discover TensorGrip® L17: the hottest and highest performing contact adhesive out there.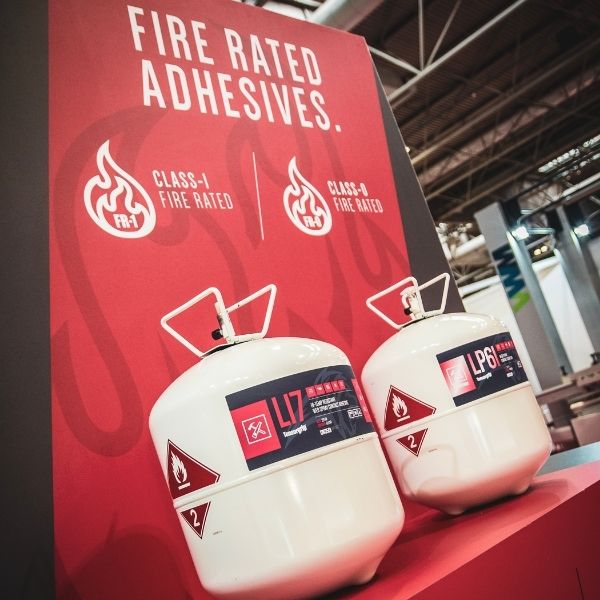 High Temp Resistance, Ultimate Bonding Power
Joiners and contractors face a number of risks in their working lives, accounting for a high proportion of workplace injuries and incidents. Here at Tensor, we're harnessing decades of industry experience to make working life both easier and safer for our customers.
Portable systems. Class 1 Fire Rated. BS 6222 Bond Strength Approved. When it comes to safe and sturdy adhesives, TensorGrip® L17 is a joinery adhesives icon and a top choice for contractors the world-over.
Secure the best bonds around with some Tensor Tips on mastering TensorGrip® L17 - the ultimate web spray contact adhesive:
- TensorGrip® L17 is particularly powerful when used on clean and dry surfaces. Indeed, you can even use this product for bonding sheet metals, where surface preparation is very important – the surface must be degreased and lightly abraded with fine abrasive or non-woven material. In other bonding jobs, make sure that surfaces are clean, dry, and free from dirt, dust, oil, loose paint, wax or grease, etc.
- For best results, the temperature of the adhesive and the surfaces being bonded should be between 60 degrees F - 80 degrees F (16degrees C - 27 degrees C).
- Spray about 10-20 cm (4" – 8") away at a 90-degree angle to the surface, applying a uniform, even coat of adhesive to obtain 80% to 100% coverage of the surface. If necessary, spray another coat of adhesive in areas that appear to need more adhesive.
- Spray both surfaces to be bonded, one surface vertically and the other surface horizontally. Allow the adhesive to tack off until no adhesive transfers to the knuckle when touched.
- Adhere surfaces and press together with adequate pressure. A roller is recommended to apply a uniform pressure to achieve maximum strength.
- Allow 24 hours for the adhesive to fully cure.
- If the spray tip clogs, unscrew the spray tip from the gun and clean with solvents such as lacquer thinner or acetone. Do not use a pin on the spray tip orifice.
TensorGrip® L17: Buy Our Class 1 Fire Rated Adhesive
Regardless of your bonding job, you'll need an adhesives system that is strong, reliable, and resistant to high temperatures. Sometimes, only TensorGrip will do.
To get your hands on TensorGrip® L17, reach out to a member of our sales team or find your nearest stockist. Alternatively, view our full range of adhesives.